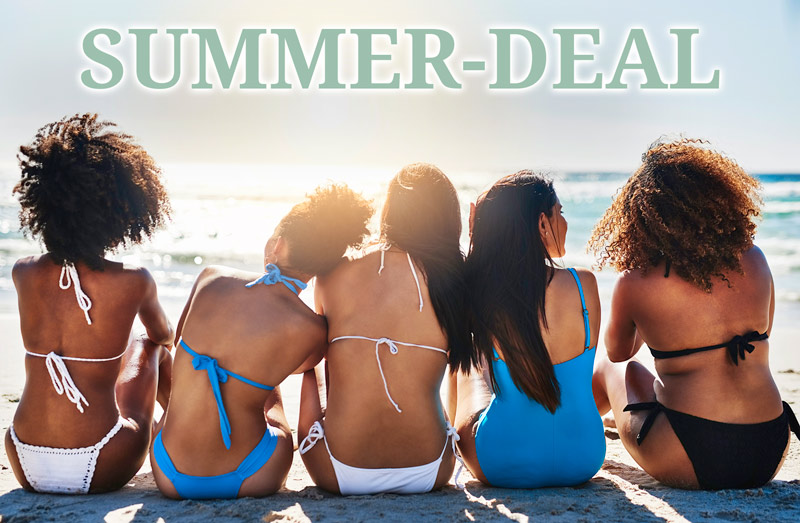 LAST MINUTE TO THE STRAND FIGURE: WITH COOLCRUSH® and CRISTAL FIT®.
Who doesn't know it, the beautiful summer days are here now and the look in the mirror doesn't quite satisfy you yet? You find a little roll of flab here and there? The belly and the buttocks could be crisper? Aesthetic medicine offers ways to improve small body flaws: CoolCrush® and Cristal Fit® are just the right treatments for body optimization – uncomplicated, effective and absolutely suitable for summer.
That's why we now have the right summer promotion: start the beautiful time of the year with fewer fat pads and a more defined body.
Body shaping with CoolCrush® and CRISTAL FIT®.
During a CoolCrush® treatment, we simply freeze away your pesky love handles. This is because fat lipids crystallize due to hypothermia. Our combination therapy of the modern Deleo-Cristal device and shock wave therapy brings beautiful results. The treatment is gentle and safe, you have no downtime we continuously reduce your body circumference around your abdomen, hips and arms. The result is fewer fat cells in your problem areas.
Book your "Fat Away Special" now from only € 390,- at www.terminonline.at.
*For all binding treatments valid until 15.9.2022.
CRISTAL FIT® provides for a defined belly and crisp buttocks. Electromagnetic stimulation replaces a targeted workout – but without sweaty training. The extremely efficient treatment (30 minutes = approx. 500 workouts) ensures focused muscle building – without strenuous exercise.
Book your gentle "body shaping special" now for only € 100,- at www.terminonline.at.
*Valid until 15.9.2022 for all binding treatments.