CRISTAL FIT® Summer-Deal 2022
Here's how to get a summer body!
Start the most beautiful time of the year without annoying fat deposits and with a more defined body!
Our body actions let your fat melt away with CoolCrush® and provide more muscles on your belly and buttocks with Cristal Fit®.
CoolCrush® now from: € 390,- instead of € 690,-  & Cristal Fit® for muscle building from € 100,- instead of € 190,-.
Prices valid for all binding bookings until 15.9.2022.
Cristal Fit® works with focused electromagnetic waves that stimulate the muscles. The treatment is a targeted workout without a sweaty workout.
Maximum muscle contractions are generated by a magnetic field, leading to fast results. Cristal Fit® is the market leader in Europe and manages to build up muscles sustainably in an extremely efficient way (30 minutes of treatment correspond to about 500 training units). Without surgery, without downtime, without risk and no side effects except more muscle soreness.
HOW CRISTAL FIT® WORKS
Compared to EMS electromagnetic stimulation (sports with electricity, electromagnetic rays stimulate muscles and metabolism), High-EMT delivers focused electromagnetic waves directly into the muscles and the muscle is trained in an incredibly short time. High-EMT uses frequencies that do not allow the muscle to rest between stimulations. As with strength endurance training, there is a metabolic afterburn effect for up to 24 hours. > Download information sheet (PDF | english)
The result
Maximum stimulation – best result – long-term muscle growth
up to 16% muscle growth after 1- 2 months
Stimulation and muscle contractions build up the body's own muscles, which do not degrade any time soon.
THE AREAS OF APPLICATION.
Cristal Fit® for the belly. A beautiful belly has to do with good connective tissue, little fat and good definition, and this is where Cristal Fit® comes in. Without surgery, the muscles are strengthened and thus more definition is achieved.
Cristal Fit® for the buttocks. As we age, we lose muscle due to changes in hormones, so the projection on our buttocks automatically becomes less. Many squats are said to make a firm butt – this is true when the skin connective tissue is firm. Then we can strengthen the muscles with Cristal Fit®, a high-intensity focused electromagnetic wave spectrum. With the buttocks, it is mainly about strengthening and growing the muscles.
But arms and thighs can also be worked with Cristal Fit®.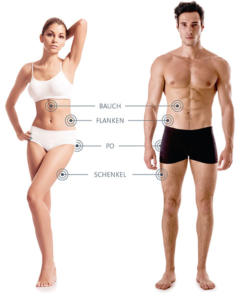 HOW OFTEN SHOULD CRISTAL FIT® BE APPLIED?
The duration of treatment is 30 minutes. For best results, we recommend that you do the treatment 2x per week for 3 weeks. That is a total of 6 treatments.
FOR WHOM IS CRISTAL FIT® SUITABLE?
For women and men over 19 years of age with already trained muscles. The better the muscle is already trained, the better the results. Tip: It is important to drink enough water for a longer period of time after the treatments, protein shakes can also support. Even after pregnancies, affected women often have the feeling that the abdomen pushes outwards, even years later. This is called rectus diastasis, the "gaping" of the straight abdominal muscles. With Cristal Fit® good results can also be achieved here.
WHO OR WHAT CANNOT BE TREATED WITH CRISTAL FIT®?
Soft, sagging tissue and soft skin cannot be treated. Overweight patients cannot be treated. Women who have had a copper IUD inserted are unfortunately unsuitable – as the electromagnetic stimulation causes heating, this can lead to uncertainty about the effect of the IUD. Also people with a pacemaker.