WOULD YOU LIKE A SHORTER DISTANCE BETWEEN YOUR NOSE AND UPPER LIP?
If the distance between the nose and the upper lip is very large, it may not be perceived as attractive. In addition, the lip loses volume in the course of life, which increases the effect of a narrow lip. With the Bullhorn lift, an optical rejuvenation of the face is achieved with a small amount of effort.
WHAT HAPPENS BEFORE THE BULLHORN LIFT PROCEDURE.
Come and see us for a non-binding consultation at our surgery in Vienna or in Baden near Vienna. Together we will analyse your face and tell you which technique and solution is right for you. Above all, the angle between the nose and mouth determines whether the scar can be hidden well and whether a bullhorn lift makes sense.
THIS IS WHAT HAPPENS DURING A BULLHORN LIFT PROCEDURE.
It is an outpatient procedure under local anaesthetic that takes about 45-60 minutes.
After the anaesthetic has been injected, the previously marked area of skin (bullhorn) is removed. In a surgical procedure, a thin strip of skin, including the underlying fat between the upper lip and the edge of the nose, is removed and the ends are joined by a thin suture. It is important to spare nerves and vessels and to dissect down to the muscle, as this is the only way to expect a permanent result. In this way, the distance between the nose and the red of the lips is shortened. Care is taken to follow the naturally curved lines of the skin and not to remove more than a third of the "distance" between the nose and the red of the lips. The scar is located directly at the nasal entrance and can be somewhat hidden here.
The edges of the wound are adapted exactly and sutured end to end.
WHAT HAPPENS AFTER THE BULLHORN LIFT PROCEDURE.
Patients can leave the clinic on the same day. After 1 week we remove the fine skin sutures, after which you are fit to work and socialise again. Swelling and pain are almost non-existent. If you experience severe swelling or pain, please be sure to contact our doctors.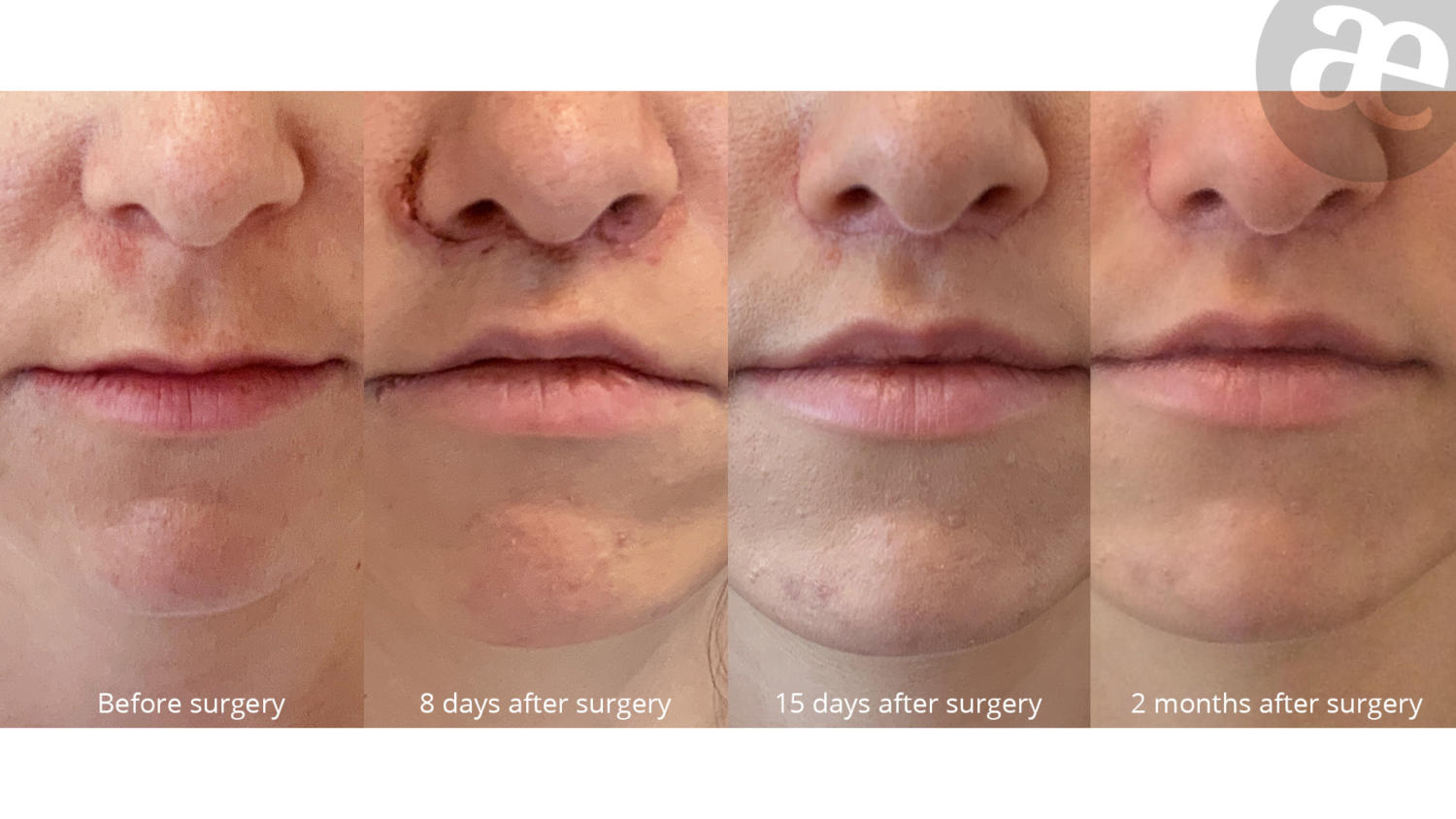 Here you can see the healing process and the before/after result after a Bullhorn lift.